BeagleBone Black
Jump to navigation
Jump to search
Description
Official website : beagleboard.org
Official BeagleBone Black Wiki maintained and supported by BeagleBoard.org.
The BeagleBone Black is a Single Board Computer (SBC) which uses the Texas instrument AM335x processor and has 512MB of RAM, one 10/100 Ethernet port, one µSD card slot, one USB 2.0 Host, one USB otg (mini USB), one HDMI (micro HDMI connector), and two 2x23 pins expansion ports which allows for a great variety of "Capes".
The BeagleBone Black board has been created by Gerald Coley.
Base system
You can get the images here: Images for BeagleBone Black board.
Connection and startup
USB-UART serial console connection
On the J1 connector (6 pins male 2.54mm, next to P9 connector, pin 1 on the Ethernet side) :
pin 1 - GND : Black
pin 4 - UART RX : Orange
pin 5 : UART TX : Yellow
SD card boot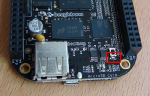 If the internal Flash (emmc) is empty the board automatically boots on the µSD card.
Otherwise, you must hold the S2 push button (above µSD card) when powering up the board.
You can also solder two of the S2 push button pins on one side (no need to do it on both sides of the push button).
Extension ports
The BeagleBone Black board has two extension ports using common 2.54mm (0.1inch) pitch:
P8 : 2x23 Header
1
'
2
'
3
4
'
P9 : 2x23 Header
1
'
2
'
3
4
'
External links
BeagleBoard.org
Others